So, what is cross-browser testing and why it is important? Among numerous types of testing cross-browser testing is employed to make every website's or web app's experience impeccable. It is our responsibility to ensure your solutions perform identically on any browser or device, and any of this sort assistive tools your users are using.
Remember that you are not your customers — just because your product goes on your Macbook Pro or high-end Galaxy phone, it doesn't mean it will go same for all your customers — there's a whole slew of testing to be done! Cross-browser testing is the primary stage of every web product development. It helps to check the correct app operation across the most used browsers like Opera, Chrome, Firefox, Safari, Internet Explorer and Microsoft Edge. The first stage of testing is choosing the priority browser depending on its popularity in target regions and on customers' preferences.
Cross-Browser Website Testing
Sites, across different browsers, may behave differently. This is due to the fact that any of the browsers has its own add-ins, plug-ins, as well as differences in desktop and mobile versions. Cross-browser website testing allows finding inconsistencies of fonts, colors, elements location in design layout and its web realization, as well as on JavaScript side that can work differently in browsers. Usually, testing is carried out in manual mode or with the help of a virtual machine, if it is necessary to check different browser versions, so you can be sure your app works as designed upon release. On the back of manual QAwerk engineers are constantly updating automated tests, and augment toolkit with new OSes and browsers to increase coverage, boost quality, curtail test time and juice up releases. We support Internet Explorer, Edge, FireFox, Safari and Chrome browsers, along with Windows, MacOS and Linux OSes. Be sure that we guarantee the security of your tests.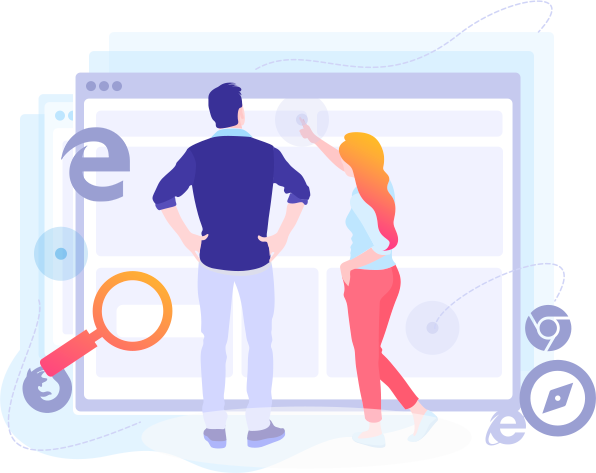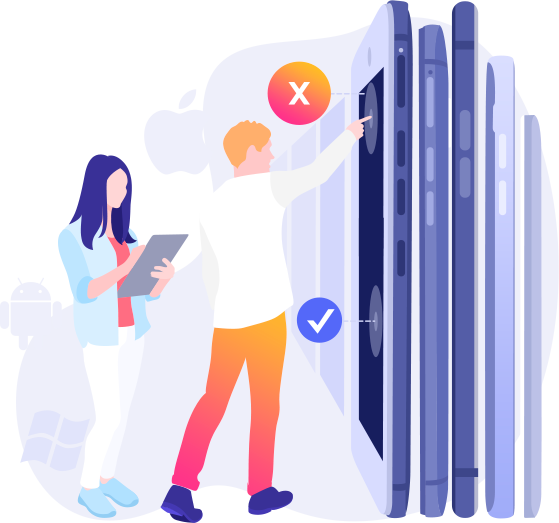 Mobile Cross-Browser Testing
While there are only a handful of popular browsers in use today on mobile devices, it is still critical to account for these different browsers and their capabilities when performing mobile cross-browser testing for your website or application. Unlike on desktop browsers, there are more variables that can affect the performance of your site or app on a mobile device's browser, such as its operating system or screen size. With the help of QAwerk your users fill their need of having a product with a responsive design, and their desire to obtain an instant access to the content on their mobile devices. Our testers pay particular attention to the web application displaying on mobile devices and tablets with various screen resolutions. This aspect is essential considering the fact of the vast amount of devices in today's hectic technology market. But, you can be sure, that QAwerk has all the technical and software equipment to provide quality mobile cross-browser testing services. Mobile cross-browser testing looks specifically at how your web page or web application performs in multiple browsers, such as Chrome, Safari, Firefox, and even lesser-used mobile browsers, so you can increase the chance that your users will have a positive experience.

We can't get around user interaction with a web app, so we recreate their actions and find vulnerabilities in the interface. Take a note, that every product that passes through all stages of cross-browser testing has a longer life cycle and is more profitable for the customer. Ditch your device lab by relying your cross-browser testing on us, since we offer a large range of real, physical devices for manual, automated and visual testing. With high-end devices and browsers toolkit that is being complemented with market-leading items everyday you make no doubt of that you receive the finest test coverage.
Upon completion of testing by QAwerk your solution will perform smoothly and correctly regardless of the configuration or server and on screens with any existing resolution. Start cross-browser testing ASAP on real mobile devices with QAwerk, and be flawless.
Cross-Browser Compatibility Testing
Some of the key factors that influence the differences of a website's look in various browsers can be a user's graphics card, screen resolution, operating system, installed fonts and browser versions. QAwerk provides cross-browser compatibility testing using modern tools and emulators, so you can be confident, that thanks to the cross-browser testing your website will have a perfect look both in the old Internet Explorer and in its new offspring Microsoft Edge.
Cross-Platform Browser Testing
Cross-platform browser testing is an essential part of quality assurance. We offer cross-browser testing that includes reviewing and comparing your website's functionality and styles across multiple operating systems like Mac OS, Android, iOS, Windows, and Linux. In this way, we find problems with a user interface, usability and performance issues. QAwerk provides the best cross-browser testing practices that have already been confirmed with the years of working on challenging projects.
Automated Cross-Browser Testing
Automation significantly reduces the time and simplifies the process of a cross-browser test. We have a broad experience in automated cross-browser testing of websites, Android and iPhone apps. With the help of powerful tools, we find bugs in diverse environments and create re-usable testing methods that can be applied again and again independently of the browser.
Platforms We Perform Cross-Browser Testing for
Browsers We Perform Cross-Browser Testing for
Looking for cross-browser software testing company?
Our Customers
Companies Needed Cross-Browser Testing Services