The story behind our cooperation with Unfold started about two years ago with QAwerk's bug crawl report. What first seemed as a one-time deal grew into a long-lasting partnership that resulted in mutual success and a great exit: in fall 2019, Unfold was acquired by Squarespace, a leader among website building platforms that decided to expand its market reach and dive into social media content creation. For more details on how QAwerk won the trust of Unfold and helped it become Squarespace's choice, check out this article.
Considering the fact that Unfold has been our loyal client for about two years, we are thrilled to spread the word about their new product – Unfold for Brands – and we are equally proud to acknowledge our contribution to the release of the new features.
In this article, we will talk about our long-term cooperation with Unfold, our part in its continued success and the recent launch of Unfold for Brands.
Unfold released a new story-making toolkit for brands
About Unfold

Unfold is a modern mobile solution for creating social media stories or posts. Minimalistic in design and intuitive in use, Unfold has quickly charmed its consumers with stylish designs.
Apart from the variety of visually appealing templates for content organization, Unfold offers photo, text, and video editing tools, and convenient sharing options. Creating and editing stories with Unfold is effortless and satisfying.
About Unfold for Brands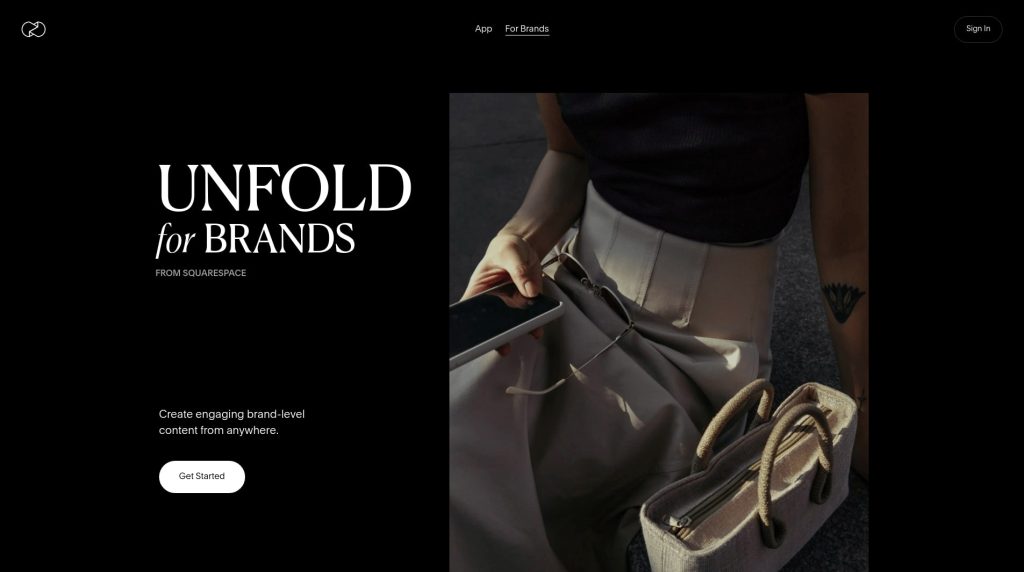 Unfold's need to diversify. Before the launch, the company offered only two plans – Unfold (free) and Unfold+ (premium). Now that the popularity of real-time stories is at its peak, Unfold has come up with a package specifically for brands. For many companies, storytelling is an essential part of their marketing campaigns as it is an effective tool for enhancing brand awareness. Unfold for Brands is designed to help businesses maintain a distinctive brand voice through a high level of customization and convenience of the app use.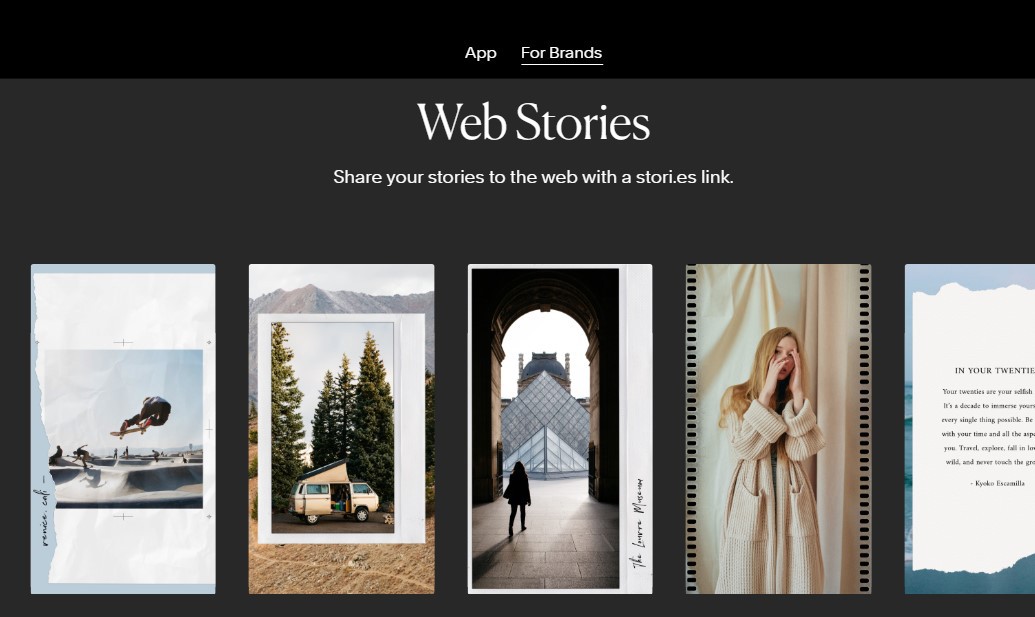 New features. The Unfold for Brands subscription includes all the premium functionality of Unfold+ and the following new features:
web stories that can be indexed by Google
login from various platforms: email, Google, Facebook, Twitter, Apple
logos & custom colors, fonts, stickers
synchronized brand kit (mobile + desktop)
web story status bar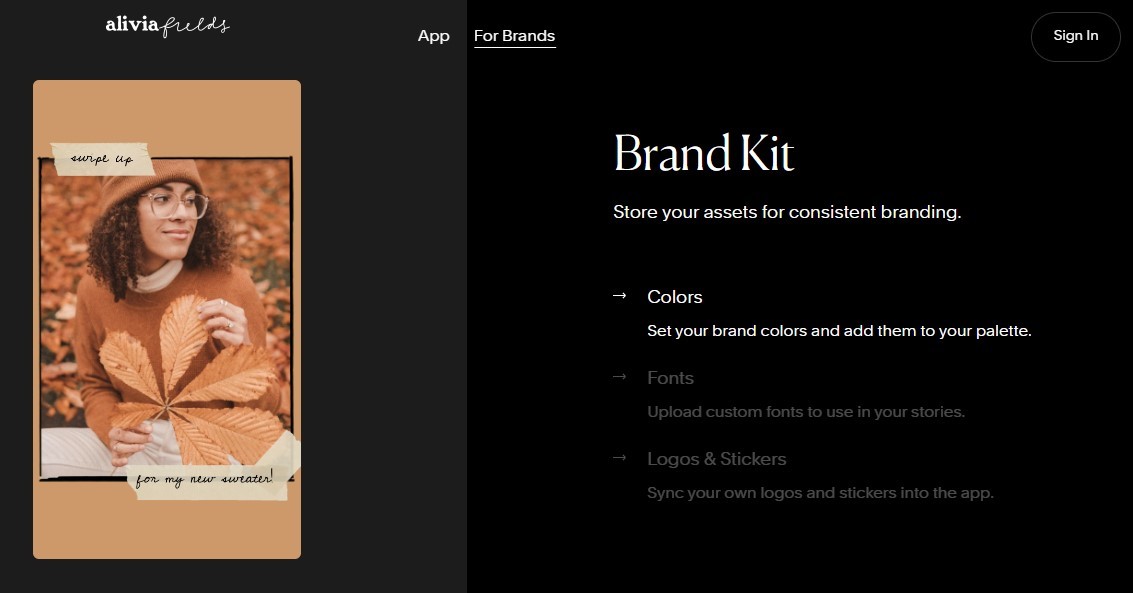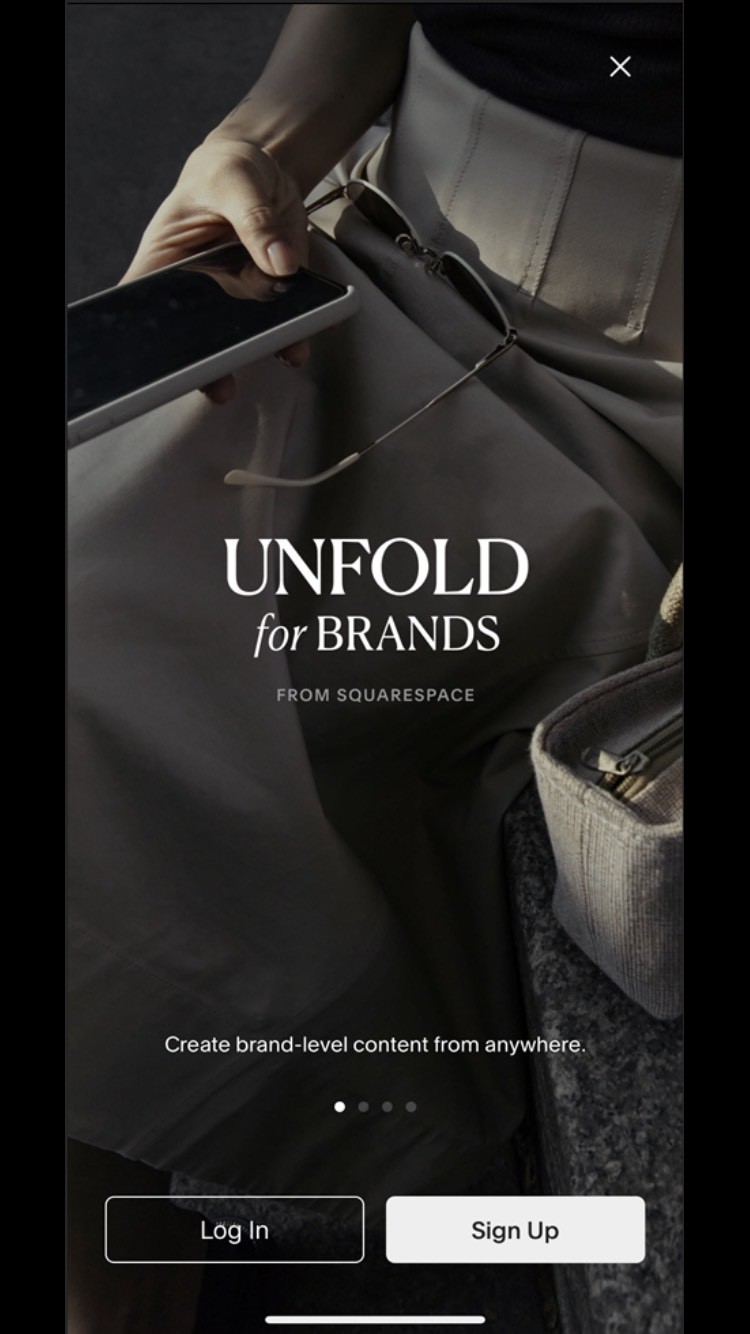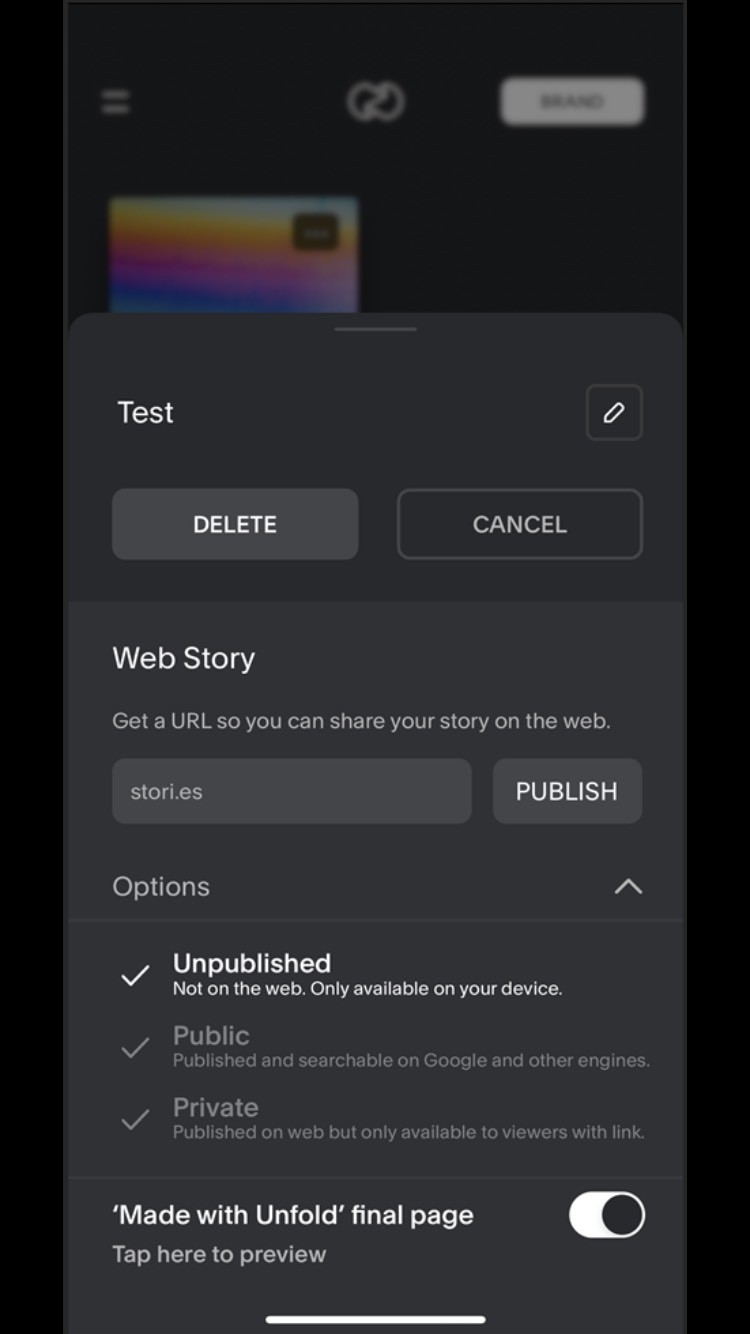 QAwerk's contribution to the success of Unfold
Strong foundation
We believe the way Unfold looks now is partially due to QAwerk's tireless efforts in making the app stable, fast, bug-free, and user-friendly. Before the cooperation with QAwerk, Unfold did not have any subscription plans, and it offered only a set of paid templates. However, with the support of a reliable quality assurance partner, Unfold managed to build a subscription platform, which we had been actively testing at the time. The launch of Unfold for Brands would be impossible without a fully functioning Unfold and Unfold+. All the experience we have accumulated during these two years was shared with the Unfold development team to assure premium quality and high customer satisfaction rate.
Driven by a genuine interest in the project, our QA engineers readily exchanged their ideas about improving the product's functionality with all members of the Unfold team. Having a streamlined communication process in place, experts from both teams could easily reach each other, discuss pressing issues, share their opinions on adding value to the product, and work together on finding smart solutions. All these factors laid a strong foundation for Unfold to build upon it and develop further.
"The QA team has been a great help for the release of our new offering, Unfold for Brands. The team has really put themselves in the place of the user to find any bugs or user experience issues, mitigating any potential issues at launch."
Comprehensive testing
High quality of the end product is achievable if the approach to software testing is comprehensive. During our cooperation with Unfold, the QAwerk team has studied the app from inside out. For Unfold for Brands, we did functional testing to make sure the app behaves in line with the set requirements. For instance, now regulars and new users have five platforms to choose from to log in or sign up, and each option had to be tested to make sure the sign-in process is smooth and effortless. Apart from bugs with the login forms, we found and fixed issues with the Unfold for Brands subscription. We also checked whether the process of creating stories is seamless, whether those beautiful stories can be exported and shared as intended, and whether the app and web platform work in sync.
One more example illustrating the significance of functional testing concerns in-app purchases. Can you imagine how frustrated would be a user who has paid for the desired item but has no access to it? Our QAwerk team made both demo and real purchases to save Unfold's consumers even from the slightest disappointment.
An absolute must in our practice is, of course, regression testing: the latter allows us to see whether the app's functionality is preserved after introducing changes, be it bug fixes or new features. In case of Unfold for Brands, it was all about adding new features; therefore, we devoted enough time for running tests on every new build.
Unfold for Brands was designed as a cost-effective and time-preserving solution for businesses and influencers that intend to maintain a consistent digital presence. Therefore, a considerable amount of time was spent on usability testing to make sure the app was user-friendly. For instance, our team suggested changing the text of some error messages to make them easy to understand. We were also concerned that it might be inconvenient for a user to search for the needed font in a long list, so we suggested enabling the option of downloading the same custom font multiple times. In the future, the users will be notified every time they try to add the font they already have. Our QAwerk engineers always put themselves in the user's shoes to objectively evaluate the app's usability and cater to the needs of the most demanding consumers.
The QAwerk team did thorough compatibility testing to make sure Unfold for Brands can run without malfunctions in a specific computing environment. Since Unfold's target audience is rather broad, we did cross-platform testing to allow everyone interested in the app to enjoy its elegant design and intuitive use. For the same reason, we are now working on localization testing – people should have an opportunity to express their creativity regardless of their location. Taking care of a consumer is an integral part of Unfold's business image; therefore, QAwerk also performed user acceptance testing, which is often ignored by many companies, yet it is essential for a product to look polished.
"I feel proud that our team was selected as the primary QA resource to Unfold for Brands. We did our best to make sure that consumers will have the best experience of using the product. My favorite feature is web stories that allow sharing customized stories in a variety of proposed templates to whomever on the web. I'm grateful for the experience and look forward to the users' feedback."
Use of real devices
One more factor that allowed us to step up the game is the use of real devices for cross-platform testing. Of course, there are many device emulators and cloud-based platforms that give virtual access to devices; however, the most precise results are obtained through the use of real gadgets. By splitting the devices among our QA engineers who work on different tasks or builds, we are able to cover all the devices without delaying the progress.
Assistance with documentation
Documentation in software development is a vital part of the entire process. Professionally written instructions allow businesses to speed things up and spend time and cost on the actual development rather than on requirements clarification. Being proficient in technical writing, QAwerk provides assistance with writing requirements specification, user manuals, product descriptions and preparing related infographics. As for Unfold, we were partially involved in the documentation process, and our part concerned writing test scenarios and checklists. Whereas some QA engineers may disregard the importance of proper documentation and jump into testing right away, we at QAwerk appreciate the benefits of meticulous technical writing. Test scenarios are checklists are necessary for:
thorough software testing
further reuse in the project
fast documentation update after new releases
knowledge transfer
For brands like Unfold that have ambitious plans for the future, the value of carefully written documentation is indispensable.
Dedicated team of QA engineers
Regardless of the current success, we still have plenty of work to do to maintain the existing quality bar and raise it in the future. Software development is never a smooth process; therefore, it makes sense to have a dedicated team of QA engineers who will quickly get to the root cause of a malfunction, saving customers from frustration and the company from losing conversions. With our assistance, Unfold has grown from an ordinary stories app with a high crash rate to a big player in the niche of brand storytelling.
"The modern world moves at breakneck speed, and Unfold is a perfect example of companies that keep up with the times and develop continuously. It is the project that keeps us busy all the time: we find bugs, test new features, exchange our ideas, and the process itself excites us indeed. I must admit I am very happy to be part of such a cool, interactive, and professional team where every member will not hesitate to assist with an issue and where knowledge sharing is both comfortable and pleasant."
Why investing in software quality assurance pays off
Make a perfect first impression
You are probably aware of the importance of making a good first impression. Whether the interaction happens face-to-face or through an app, there is no second chance to win a customer back. Statistics show that 88% of people will stop using an app if they have stumbled upon bugs or glitches. It is never a good idea to let your customers test an app for you and wait for their feedback since only the most disappointed ones will share their honest opinion, whereas others will simply move on and look for a better-quality product. These beginner's mistakes can be easily avoided if the product or service is thoroughly tested before the official launch. Unfold is an example of a start-up that took proper care of its potential consumers by investing in a team of experienced and result-driven QA engineers.
Gain authority
Brand authority is always associated with the high quality of a product or service, regardless of the industry. For instance, grammar issues are as detrimental to the success of a publishing company as bugs to the popularity of an app. Therefore, brands who position themselves as serious and reliable service providers do not tolerate imperfection and allocate a sufficient amount of resources to keep up with the latest customer demands. Seeking public awareness and recognition goes hand-in-hand with instilling trust in the consumer. The latter can be easily shaken with a multi-step sign-in process, endless image loading, or confusing UI design. All these matters pop up when the app is professionally tested beforehand.
Stay ahead of competitors
The profit from investing in software quality assurance is most tangible when precautions are taken from the very start. In this case, QA happens simultaneously with the development process, which allows to spot and fix bugs along the way. Such an approach saves time and cost for working on innovative solutions to outrun the competitors.
If you do have professional QA engineers on board, outsourcing testing services may still be necessary. The matter is that people tend to become less perspective of things when they work on the same project for a very long time. You may be surprised at how many valuable insights you can get from an outsider. To learn more about the benefits of independent testing, check out this article.
Summing up
Nowadays, mobile app users are extremely demanding, and with new technologies developing at breakneck speed, their expectations are getting higher and higher. An innovative idea will not add value to consumers' lives if it is poorly realized. Therefore, outsourcing a self-manageable team of certified QA engineers is a smart investment in a long-lasting and impeccable quality of your software.
QAwerk experts are eager to overcome new challenges and use the existing knowledge base to lead you toward success and prosperity!
See how we helped Unfold become #1 storytelling platform worldwide with one billion active users