There's hardly any person who hasn't heard about Russia invading Ukraine on February 24th. As a Ukraine-based company, we are directly affected, and we can't stay silent. The lives of millions of people have been turned upside down; thousands of peaceful Ukrainians have lost their homes, lives, and loved ones. For what? For the absurd "special military operation" used by Russia as a pretext to invade our homeland?
All of our teammates have lived the better part of their lives in a sovereign Ukraine. And we want to continue living in an independent country upholding democratic values and fundamental human rights. QAwerk condemns the war and uses its resources to inform the global community about the atrocities inflicted by Russia's military and help Ukraine withstand the aggression.
How QAwerk Operates Amidst War
QAwerk is a software testing agency with R&D offices located in Kyiv and Zaporizhia. Since 2015, we've tested over 300 projects, helping startups and large enterprises worldwide gain confidence in their software and win users' love through impeccable quality.
Before February 24th, we built growth plans, dreamed of penetrating new niches, and hoped to launch lots of other initiatives beyond Bug Crawl. Now our primary task is to ensure the safety of our team. Most QAwerk specialists have already relocated to safer areas in western Ukraine and abroad. We keep in touch with all QAwerkers twice a day to ensure they are in good physical and mental health and have all the needed resources to stay safe.
We've worked as a distributed team even before the pandemic, so relocation has caused minimal disruptions to our workflows. New equipment, including testing devices, is being bought based on emerging needs.
Our QA engineer Katia selecting new testing devices in a Budapest store
Yes, our team got smaller. Out of 70 experts, about 40 are ready to work full-time. At the same time, we've recently onboarded new members and intend to hire those who lost jobs because of the war.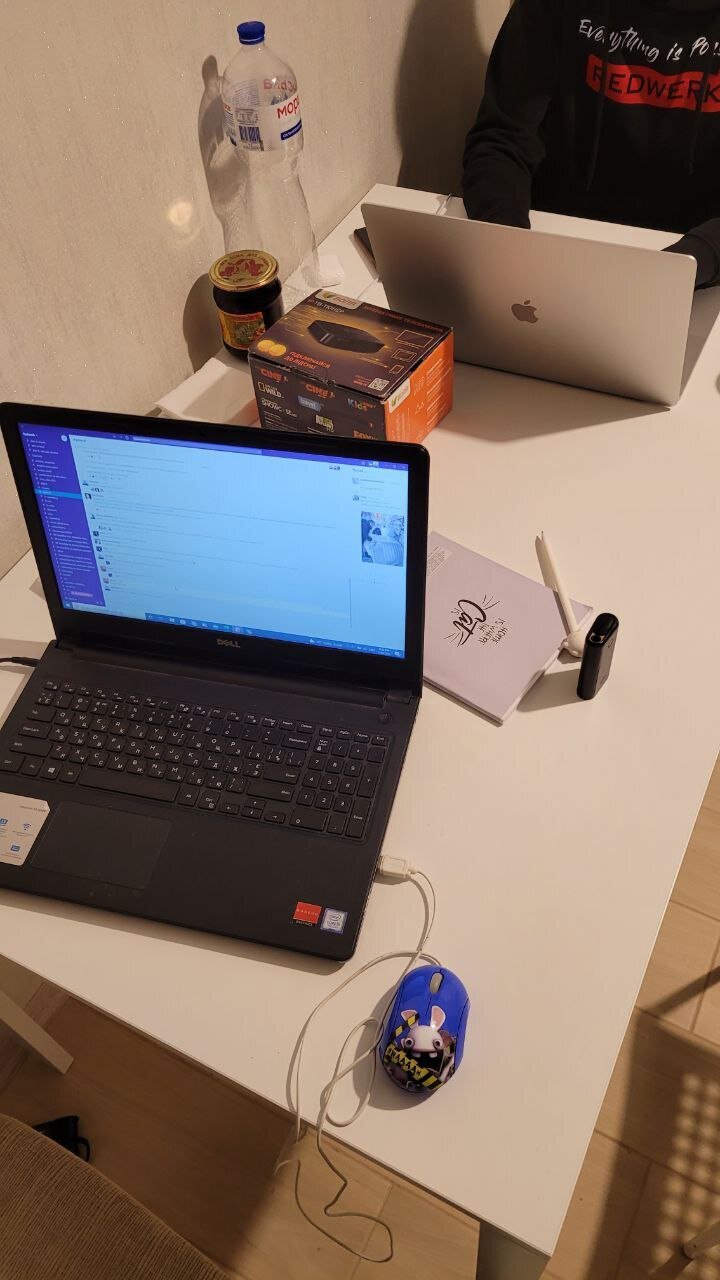 QAwerkers working from an impromptu office in western Ukraine
Why do we keep working amidst the full-blown war? We believe everyone should do what they do best. Fueling the Ukrainian economy through exporting IT services abroad is what we do best. This is our way to stay sane and support those who decided to volunteer. As long as our business is going, we can continue paying salaries to QAwerkers who:
purchase food and medicine for seniors in their community
participate in collecting and delivering humanitarian aid
help ban Russian propaganda and spread the truth about Russia's invasion
chose to fight along with the Armed Forces of Ukraine
That's why.
How Our Clients Support Ukraine
Another major goal we strive to achieve is fulfilling our obligations to the clients, despite the obstacles on our way. We are immensely grateful to our business partners for all the time, understanding, and actionable support given to us and the people of Ukraine. We are proud to know that our clients are not only incredible experts in their respective fields, but also highly empathetic, responsive, and assertive people, people with huge hearts.
We challenge other businesses worldwide to follow suit, get inspired by our clients and by tech giants who suspended their services in Russia. Perhaps, you can also come up with your own initiatives in support of Ukraine.
QAwerk clients stand with Ukraine, supporting us in our fight for freedom, democracy, and peace. Here is how they do it.
The story of our partnership with Unfold is one of a kind. For several years, we've worked together and witnessed Unfold's growth from a simple story-making app to a brand-level content creation platform with a billion active users. With our continuous support, Unfold got recognized by Apple, Google, and eventually was acquired by Squarespace, an American leading website builder and hosting provider.
Посмотреть эту публикацию в Instagram
Here is how Squarespace, together with Unfold, show solidarity with the people of Ukraine:
Made an official post in support of Ukraine, bringing awareness and encouraging its audience to act
Created a special bio site in support of Ukraine with links to donate to vetted nonprofits
Added the mentioned site to their bio on Instagram
Reimbursed employee donations of up to $600 made in BrightFunds. The money for relief efforts in Ukraine can be donated to the charity of one's choice or distributed between the charities
Offered help with hosting QAwerk teammates who relocated abroad for safety reasons
Evolv is a US-based experience optimization platform using AI for UI/UX experiments and personalization. It is a spin-off from Sentient Technologies, the world's leader in evolutionary intelligence. Our QAwerk team ensures all the great features the Evolv platform offers, be it scaling multivariate testing through AI or pulling data from a range of frontend touchpoints for omnichannel personalization, work as intended.
We were there for Evolv when they were fully redesigning their platform. Now we help Evolv deliver new capabilities consistently, securely, and faster by testing the platform manually and automating base regression.
Here is what the incredible people at Evolv have done in support of Ukraine:
Made a post addressing the event with links to vetted nonprofits and info resources we shared with them
Collected and sent humanitarian aid to Ukraine from their office in Ireland and continue this effort
Evolv teammates go beyond corporate policies and personally donated to charities of their choice
Offered assistance in relocating our team to Ireland and housing help
Secured payment for all working hours even if some of the QAwerk teammates work part-time
Kazidomi is an e-commerce platform designed for people who follow a healthy lifestyle and for anyone interested in organic, expert-approved products. Headquartered in Belgium, Kazidomi delivers across the entire Europe.
We help Kazidomi ensure their consumers enjoy a frictionless and highly satisfying journey, whether they navigate a product page, search bar, cart, payment page, or blog. We test new features and conduct regression testing to ensure upgrades cause no disruption to the service. Our team also updates existing test scenarios, writes new ones, and has recently prioritized test cases for test automation.
Innovators at heart, the Kazidomi team promptly reacted to the crisis in Ukraine:
Added a free delivery option, 'Donation against the war in Ukraine.' This option allows Kazidomi users to provide Ukrainians with humanitarian aid. Kazidomi collects these orders and sends them via the Ukrainian Embassy to Ukraine, while all the proceeds from these orders will be donated to the Red Cross
Made a post showing solidarity with Ukraine and encouraging their audience to participate in their initiative
Created a special list of items that can be purchased as humanitarian aid for Ukraine
Donated food and hygiene products worth €1000 to Ukrainian refugees at the Polish border
Added a banner to their homepage calling to send necessities to Ukrainian refugees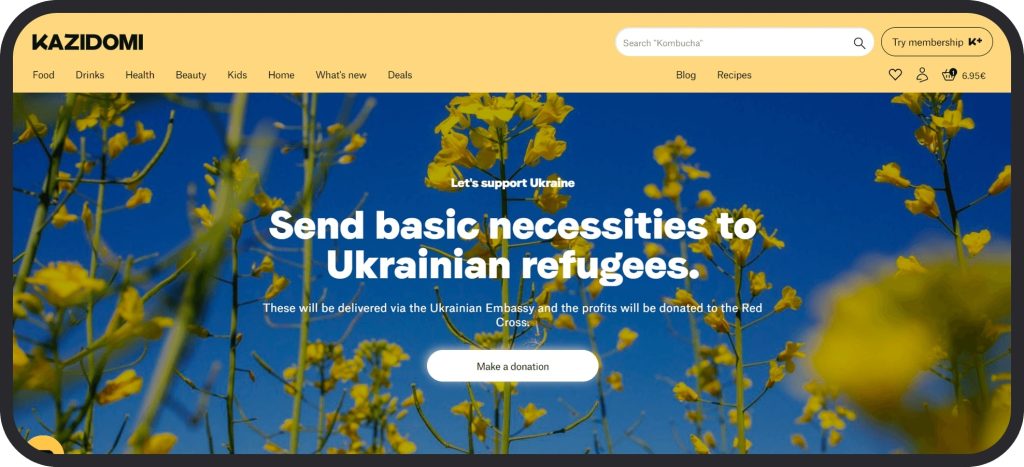 VirtaMed is a leading provider of virtual reality training simulators with offices in Switzerland, the US, and China. VirtaMed offers a range of readily-available simulators in orthopedics, obstetrics and gynecology, laparoscopy, and urology. It also partners with enterprises to design custom data-driven solutions for medical education.
Our journey with VirtaMed has only begun, yet we consolidate our testing efforts around regression testing. VirtaMed entrusted us to take care of each simulation before release.
We are beyond fortunate to work alongside talented and kind-hearted people at VirtaMed who, without a second thought, took action to support QAwerk and the people of Ukraine:
Spread the word about Russia's invasion of Ukraine and shared links to trusted nonprofits helping our people
Help our PM, who also volunteers part-time, search for tourniquet suppliers for the Ukrainian military
Made personal donations to charities of their choice in support of Ukraine
Offered help with relocating our teammates to Europe
Arctype is an SQL client and database management tool making querying databases an efficient and visually rich process. As a startup, Arctype is actively developing new features to make its product even more appealing to users. So they needed seasoned QAs who could write test cases keeping in mind peculiarities of different database types. Consistent feature and regression testing are also part of our deal with Arctype.
With our tech guidance and support, Arctype has recently celebrated its first win: it was nominated by Product Hunt for Developer Tool of the Year and eventually listed among the top five products of the week.
Arctype expressed their gratitude to the QAwerk team by supporting us financially and sending our teammates a monthly bonus. Even though Arctype is a startup dependent on investor funding, they did something real partners do – show care and appreciation in happy hours and moments of crisis. The people behind the Arctype team are not only skillful product developers but those whose word can be trusted.
Work With Ukraine
There are numerous ways to support the people of Ukraine in their fight for freedom, democracy, and peace. But there's one that receives the least credit even though it is as important as gathering donations to help Ukrainian evacuees, refugees, and the army. Keep working with Ukraine, just like our clients do, and you'll make a tremendous contribution to our economy. This way, people with jobs will continue buying products supporting local sellers, pay taxes, and make donations themselves to the crisis relief funds.
For several years, Ukraine has remained one of the largest exporters of IT services to the USA and Europe. The Ukrainian IT industry has shown a steady growth rate of about 30%, and more than 100 Fortune 500 companies have hired Ukrainian IT agencies.
All these talented people, about 220K+ ICT experts, are still in Ukraine. Even those who relocated abroad continue working for Ukraine-based tech agencies. So our appeal to the global business community, #WorkWithUkraine, don't be afraid to hire Ukrainians – we keep working through the war. Don't have a project for the entire team, start with just one QA and see how it goes, contract a gig worker from Ukraine, and ask your community to do the same.
Hiring a QA engineer is a low-risk endeavor: as long as everything is documented and test cases are written, the handover can be done immediately. You pay only for the services you get, and there are no strings attached like with the development. QAwerk allows startups and enterprises to get a third-party perspective on their apps for free by becoming a Bug Crawl participant.
We are proud to be a Ukrainian company, proud to have the strength to work amidst the war, and wholeheartedly believe in our victory and the victory of the entire democratic world. Massive thank you from our team to all the folks worldwide who #StandWithUkraine.
Improve your mobile, web, or SaaS app for free!
Our QA engineers will perform the first round of exploratory testing for free! Sign up to participate in our Bug Crawl program and receive a detailed bug report highlighting major and minor areas for improvement.